History
Alpedrete is located in the northwest of Madrid, in the Guadarrama Valley, about 40km from the capital. One of the major figures who have shaped its history and gives origin to its name, is the stone that built the famous landmarks such as the Monasterio de El Escorial, the Royal Palace, Nuevos Ministerios and the Valley of the Fallen , among others.
In town you can visit the Monument to the Stone and Cantero, City Hall (1959) and the Church of Our Lady of the Assumption (XIII century), as well as touring the town and walk through the parks.
Check here Alpedrete more tourist information
Location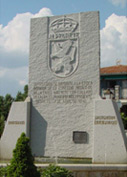 By Road: From Madrid, take the N-VI road from La Coruna to Exit 39. At this point you take the detour towards Puerto de Navacerrada (M-601) and is later followed by the M-619 to reach Alpedrete.
Bus: Line 681 and 685 from Moncloa (Madrid)
Train: C8b Line commuter train.